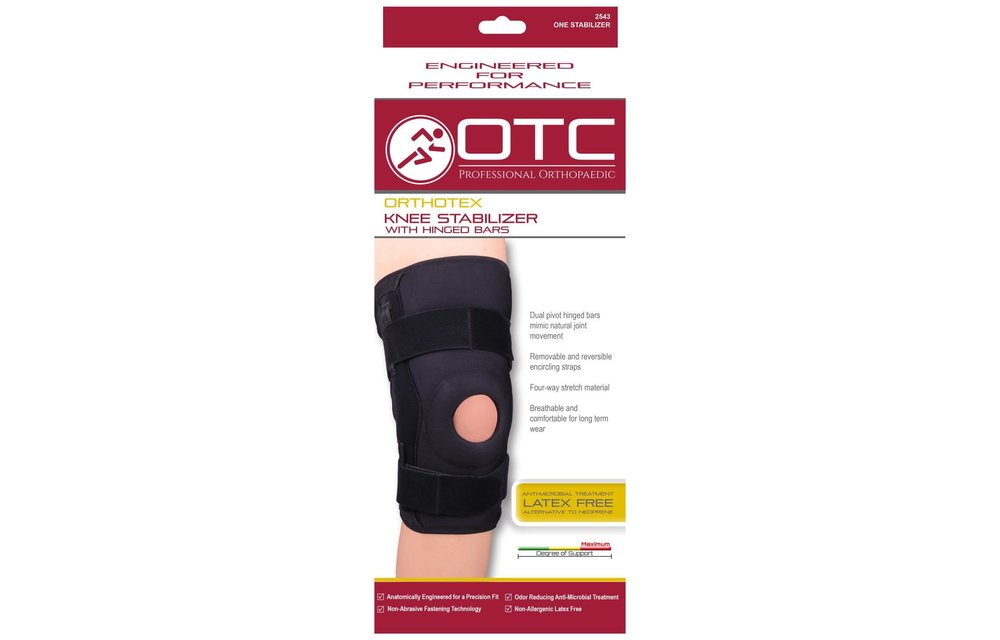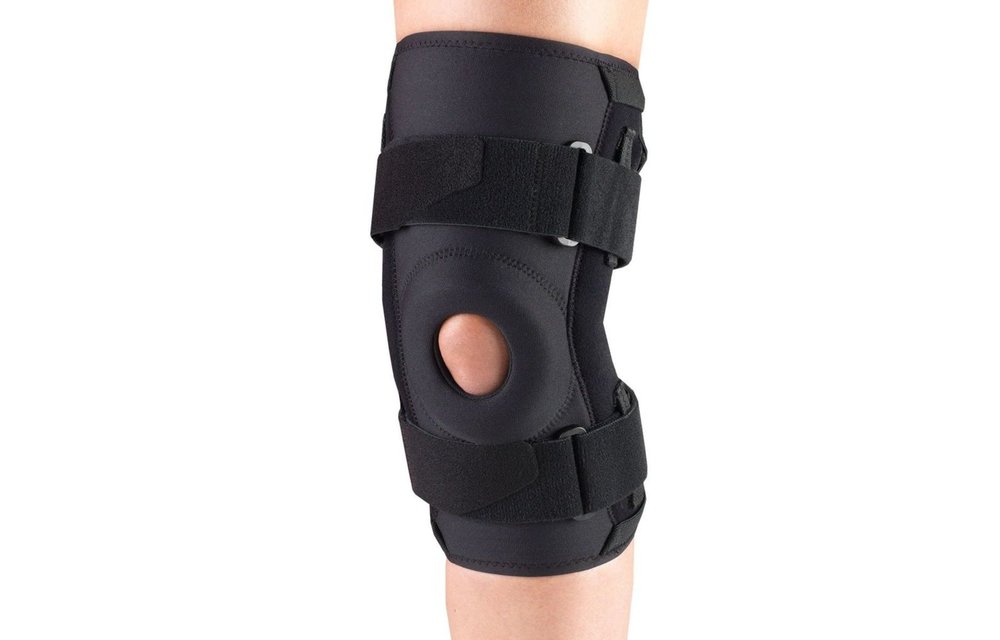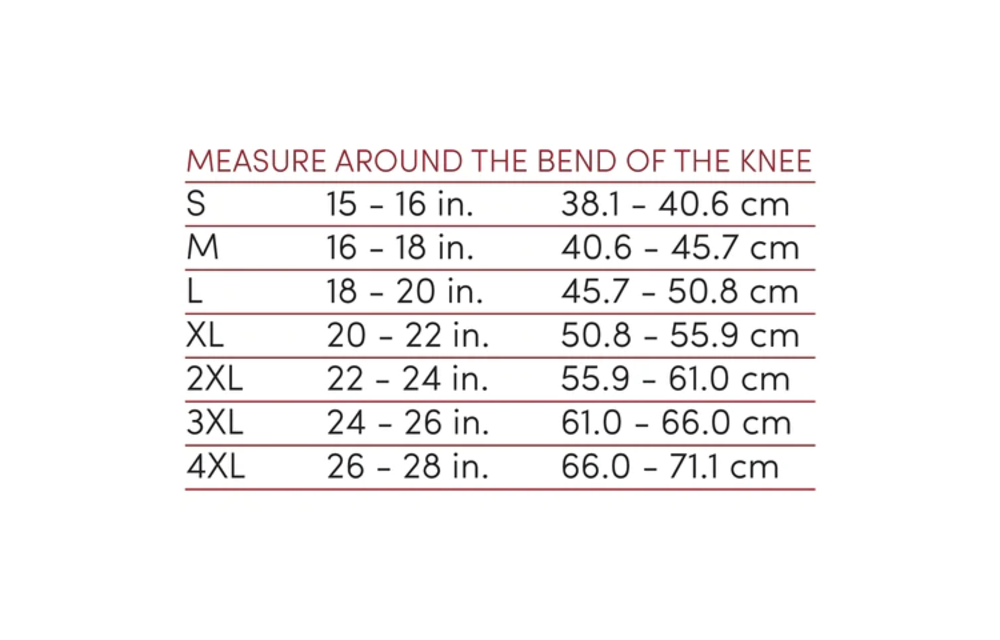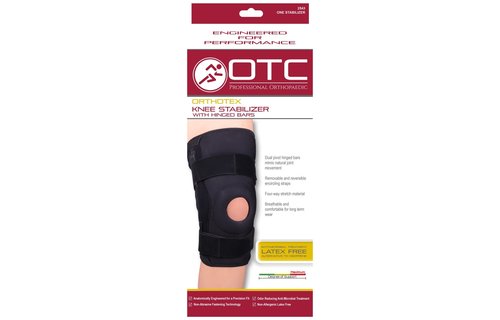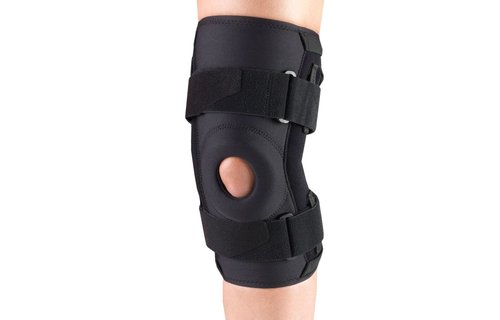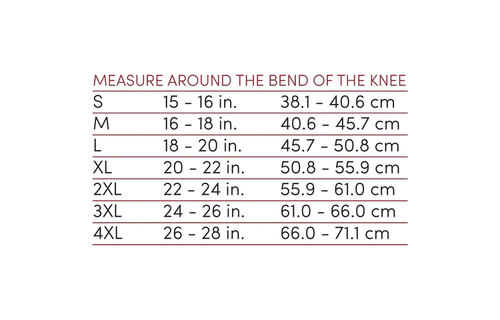 OTC Orthotex Knee Stabilizer w/Hinged Bars
C$ 109.45
Excl. tax
In stock
Available in store:

Check availability
2543 / ORTHOTEX KNEE STABILIZER - HINGED BARS...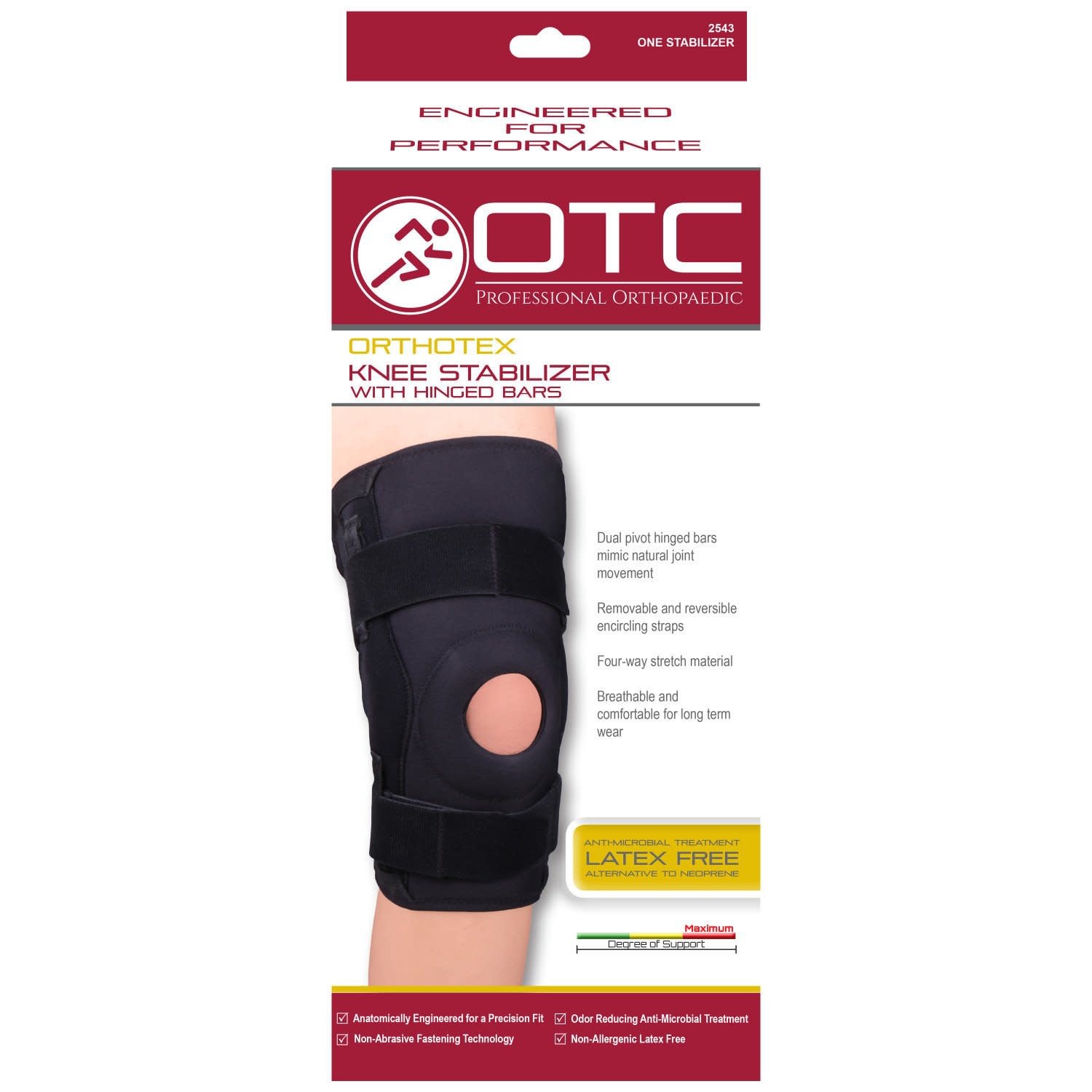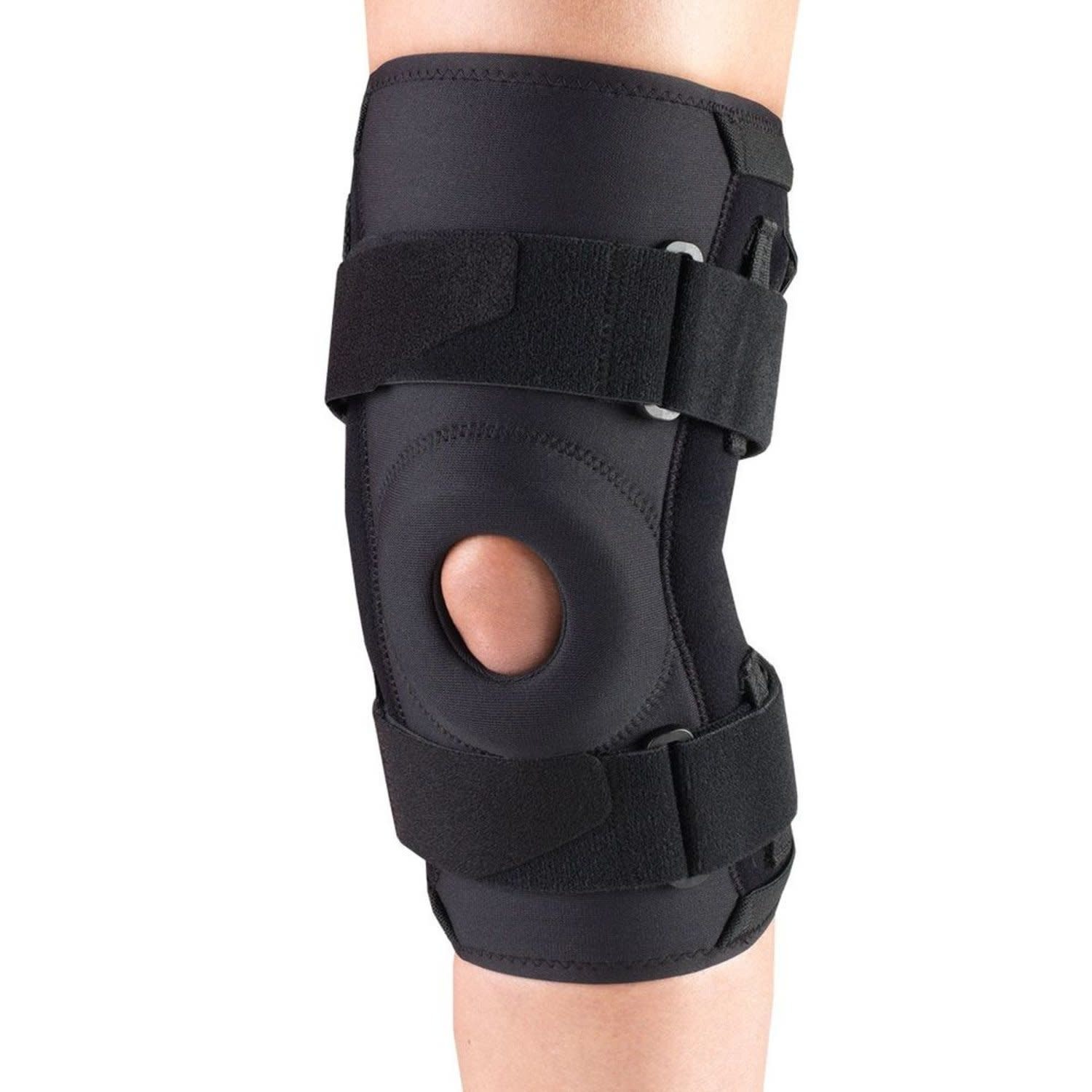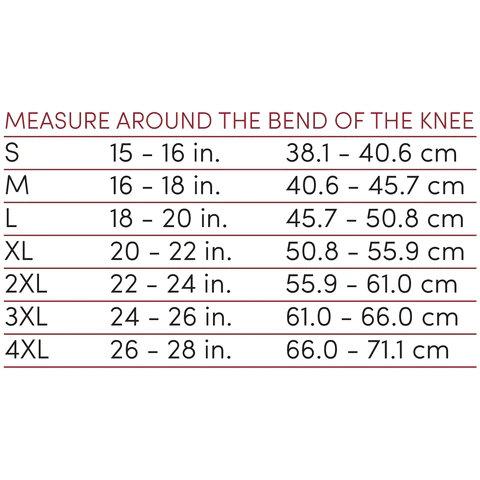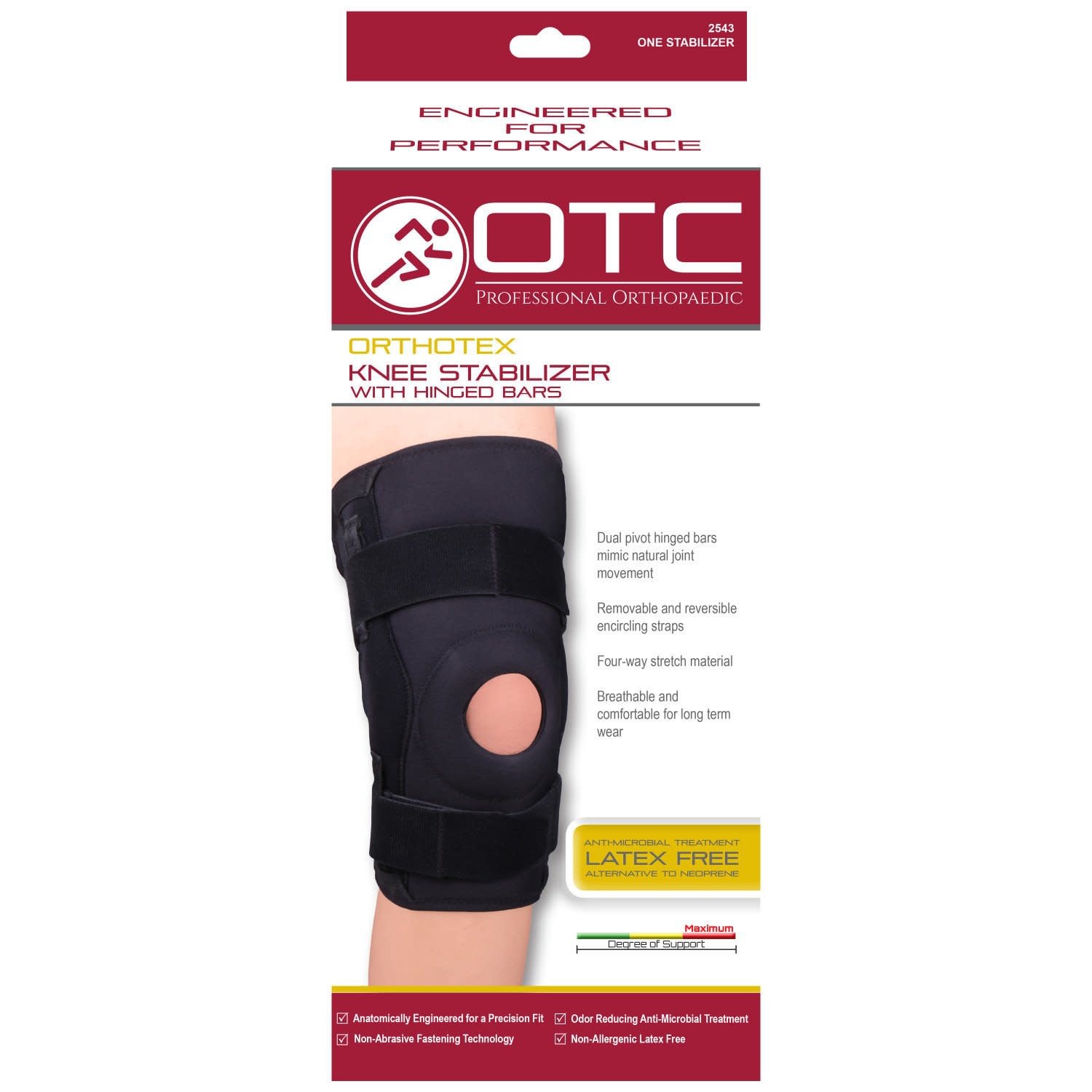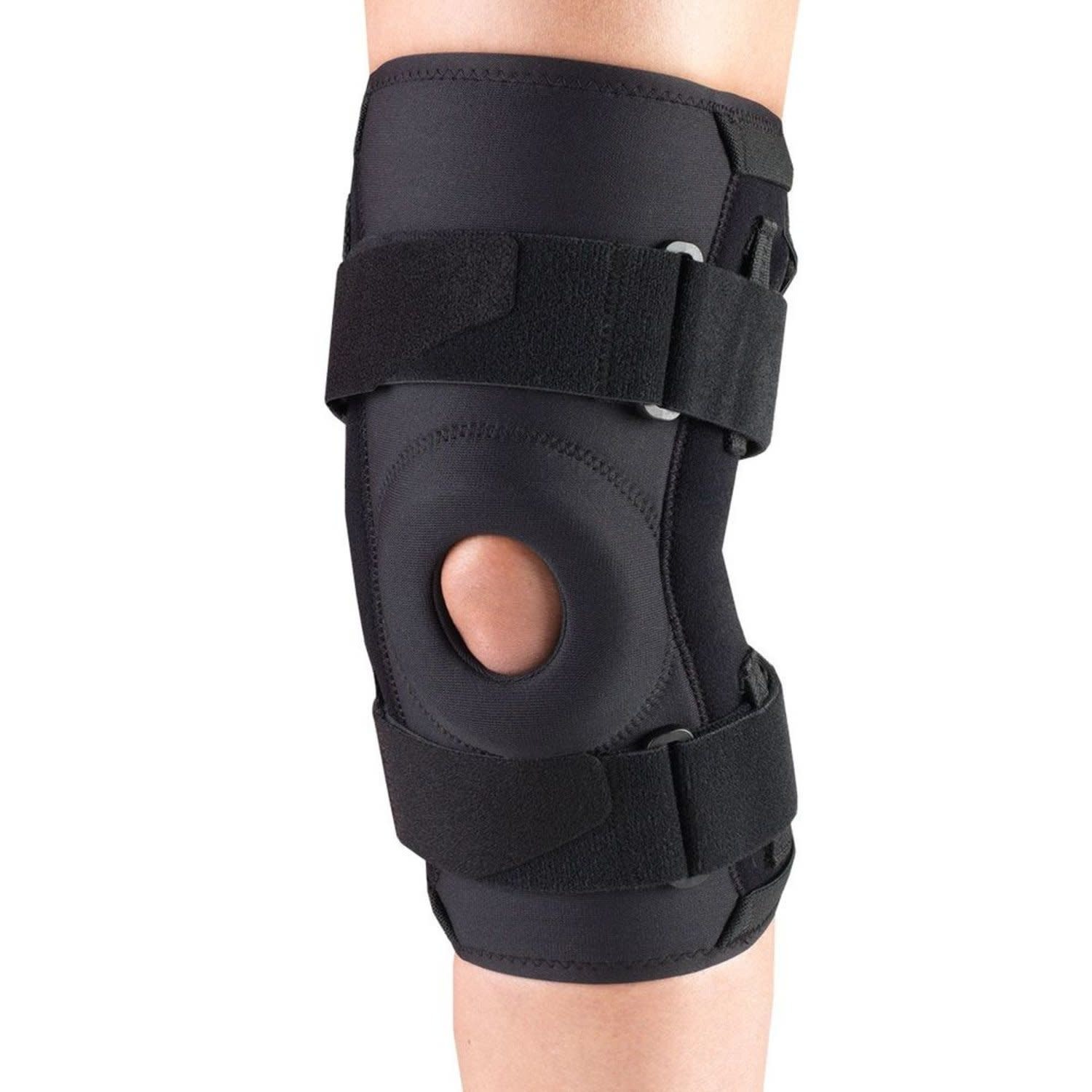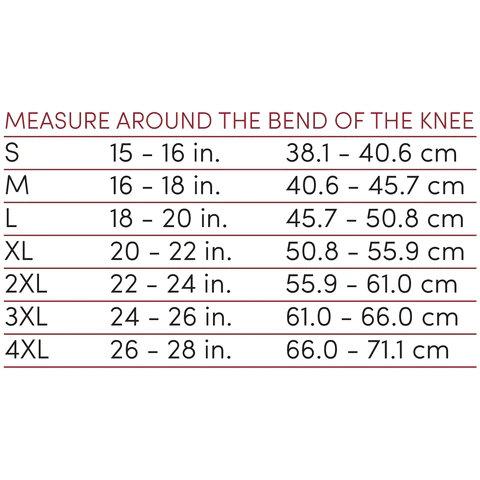 Product description
The OTC 2543 knee stabilizer is made from Orthotex fabric, an open 3-dimensional knit that is a non-latex alternative to neoprene. It offers breathability, elasticity, therapeutic compression, comfort and heat control. It is less hot than neoprene, thus appropriate for long term wear or wear in warm climates, and ideal for wearers who are allergic to or irritated by neoprene fabric.
INDICATIONS LISTED BELOW
• Open cell foam Orthotex material is breathable and allows for comfortable long-term wear
• Multidirectional stretch material provides even compression over the anatomical prominences of the joint
• Multi-function neoprene buttress surrounds kneecap and provides compression and stabilization. Slits on interior of buttress cover allows for a wide range of adjustability
• Polycentric hinged bars with flexion and extension stops, provide rigid medial-lateral stability, yet flex and extend naturally with the joint
• Upper and lower hook-and-loop encircling straps maintain stabilizer in correct position; straps are adjustable and removable
• Sheer mesh elastic opening over back of knee minimizes binding, enhances wearing comfort
•  Latex free
CRUCIATE AND COLLATERAL LIGAMENT INJURIES
The conditions shown below may not be treated by the product listed on this page. Please view the above Medical Applications Chart to determine what conditions this page's associated product treats.
The anterior cruciate ligament (ACL) helps maintain knee stability by preventing the tibia (shin bone) from sliding forward beneath the femur (thigh bone). It can be injured in any number of ways, for example: changing direction rapidly, slowing down while running, landing from a jump, and direct injury (such as in a football tackle). 
• A "popping"sound noted when injured 
• Knee swelling within 6 hours 
• Joint instability 
• Pain on the medial (inner) side of the knee
Posterior cruciate ligament (PCL) injuries disrupt knee joint stability because the tibia can sag backwards. The PCL is usually injured by hyperextension (overextending the knee), or a direct blow to the flexed knee (the position of the knee when you bend the leg).
• Knee swelling and tenderness in the space behind the knee (popliteal fossa) 
• Joint instability 
• Joint pain
The medial collateral ligament (MCL) is located at the inner side the knee joint. The MCL connects the femur to the tibia and provides stability to the inner side of the knee. Injuries to the MCL are usually caused by contact on the inside of the knee. 
• Sharp pain on the medial side (inside) of the knee
The lateral collateral ligament (LCL) is located at the outer side of the knee joint. The LCL connects the femur to the lateral bone in the lower leg, the fibula, and stabilizes the outer side. Injuries to the LCL are usually caused by contact to the outside of the knee.
• Pain and tenderness along the outside of the kneecap (patella)
• Possible swelling 
• Chronic pain and weakness
Show more
Specifications
Article number

OTC-2543-M

SKU

2543-M
Show more
Reviews
There are no reviews written yet about this product..
RELATED PRODUCTS
You May Also Like…